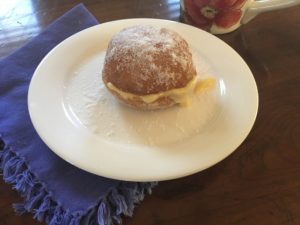 Makes about 22 pastries
Step into Confeitaria Nacional near Lisbon's Rossio Square and you will find an array of pastries. Bolas de Berlim are doughnut like balls of yeast raised dough, dusted with sugar. Offered up are plain Berlims and those filled with a pastry cream. Now you can make them at home as a last treat for Carnival. A perfect holiday treat for breakfast as well as dessert. My friend Maria who is a pastry chef and instructor in Lisbon shared her recipe with me. It isn't difficult. Just patience is required. See note at end before beginning.
¾ cup sugar
Grated peel of 1 lemon
7 ounces whole milk
Scant 4 ounces margarine (I used butter), room temperature
Three ¼ ounce packages dry yeast or 1 ounce fresh cake yeast
5 ¼- 5 ½ * cups all-purpose flour (T55)
1 teaspoon fine table salt
3 large eggs, room temperature, lightly beaten
Vegetable oil for frying
Sugar for coating
Kitchen scale
2 Sheet pans
In a medium pot, warm the milk, the sugar, grated lemon peel and the butter over medium-low heat, just until butter is almost melted. Remove from heat.
Meanwhile, dissolve the yeast in ½ cup warm water (110 degrees F.) and set aside to proof for 10 minutes.
In the bowl of your stand mixer or large mixing bowl, mix together the flour and salt. Make a well in the middle and add the proofed yeast and eggs and mix over medium speed. As it mixes, slowly pour in the warm sweetened milk increasing the speed gradually to medium high. Mix until the dough is smooth, pulling away from the sides of the bowl and become somewhat elastic. The bowl will not be completely clean. If the dough is sticky, dust with a tablespoon of flour and continue mixing. The dough should spring back slightly when pressed with your index finger.
Cover the bowl and place in a warm spot to rise until double, about 1 ½ hours. (If you wish, you can place the bowl on the middle shelf of the oven with a pan of hot water on the lower shelf.)
Dump the dough on a lightly floured workspace and cut pieces of dough, about 60 g (2 ounces) in weight. I would not make them larger. If they are too much bigger they may brown on the outside before the inside is thoroughly cooked. Shape into rounds and place on lightly floured sheet pans. Cover with a kitchen towel and let rise again for about 45 min.- 1 hour. Steam proofing helps if house is cool.
To Fry: Set up a tray and add about 2 cups of sugar to it. Heat the oil, about 5 inches deep, in a pot or fryer to the temperature of 320-350 degrees F., Don't go over 350, may be too hot and brown before thoroughly cooked.
Brush off excess flour and fry the Berlims, a couple at a time, turning them. Remove with slotted spoon to a sugared tray or sheet pan and coat. If desired, when cool enough to handle, gently slice and fill with your favorite thick pastry cream.
Note: In her method, she dumps all the ingredients but the milk in the mixing bowl, then adds the warm milk gradually while mixing. The method I have adapted it here for you, proofs the dry yeast first since mixing with salt can kill the yeast.
Keep in mind the flour in Portugal is different, more French type in nature. According to my sources, the closest thing to the T55 is our all-purpose flour. Given the difference of the flour and the water for the yeast, my method calls for a little more flour than her measure. She also used cake yeast which would be more in weight.
I baked a few as a test, at 350 for 20 minutes. Baking them is an option although the flavor will be different and sugar won't stick unless you add no-melting sugar before baking. Definitely better frying in vegetable oil.