I love the fall and winter for the heartier dishes that it calls for. The easiest thing to make is soup.
If you are not big on time for prepping, soups, deliciously flavorful soups can be made out of almost nothing, using what you have on hand. So here is an example of what I mean.
Today has been crazy busy, but I usually work through the lunch period and that isn't good. So, because I sometimes think of using beans at the last minute, in addition to having the dried beans on hand, I keep a few varieties of good quality canned ones for moments like this. I just so happened to have the leftover carcass of a small roasted chicken in the refrigerator with the congealed drippings.
I put the carcass and drippings in a 5 quart soup pot, followed by 2 quarts of water and brought it to a boil. Then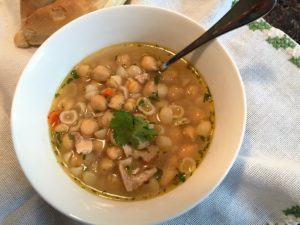 , I reduce the heat to medium low and simmered, covered, it for about 1 hour. The carcass is removed to a dish to cool.
I strained the broth and brought it back to the boil. I then added, 3-5 scallions, thinly sliced, that I had but if I didn't, I would have used 1/2 cup chopped onion. Tossed in about 1 cup of small pasta (I happened to have mini-shells) and the contents of a 1 pound 13 ounce can of chick peas. Gave it a stir. Removed any meat from the carcass bones and added it in. Tasted for salt and added to taste with some fresh ground black pepper and about 1/2 cup finely chopped fresh cilantro. Back to the boil, reduce the heat to simmer and cook until the pasta is done. That is it. Easy economical and delicious. Serves 6
On my recent trip to Portugal, I enjoyed many restaurants that serve traditional home-style fare. However, I also wanted to see what is new and exciting so I ventured out to some fancier spots. What I found varied. In one restaurant, the food was somewhat traditional but sported a more elegant plating. Dishes like Duck Rice (Arroz Pato) tasted like mine but was not served in a casserole dish. Rather it was plated as a tower in the middle of the dish with a drizzle of olive oil around it. Very nice presentation. There were others that were almost traditional but had a touch of fusion. Still there were others that made me wonder if I was in Portugal. I mean, mushroom ravioli with a spinach cream foam sauce along with other similar characters. Fabulous flavor! Michelin Star chef at L'and outdid himself. Very much Mediterranean in style than simply Portuguese. Then I come to Laurentina in Lisbon that gave fabulous food, more upscale atmosphere with traditional characteristics. After writing two books, I know there are many more dishes that folks cook up, many on a whim of what is in the pantry on a given day, many dishes that are obscure only to be found only in a given region.
So here we are in the season of soups and stews that will carry us through the winter and warm our hearts and bodies against the cold.
From my kitchen to yours,
Ana