I love the fall and winter for the heartier dishes that it calls for, but soup can be enjoyed year round. The easiest thing to make is soup. This particular soup does not have a name and not all recipes that one creates impromptu in your kitchen has a name but they eventually get one. So this one I will call Chicken and Chickpea Soup with Cilantro (Sopa de Galinha com Grão e Coentros.
If you are not big on time for prepping, soups, deliciously flavorful soups can be made out of almost nothing, using what you have on hand. So here is an example of what I mean.
Today has been crazy busy, but I usually work through the lunch period and that isn't good. So, because I sometimes think of using beans at the last minute, in addition to having the dried beans on hand, I keep a few varieties of good quality canned ones for moments like this. I just so happened to have the leftover carcass of a small roasted chicken in the refrigerator with the congealed drippings.
I put the carcass and drippings in a 5 quart soup pot, followed by 2 quarts of water and brought it to a boil. Then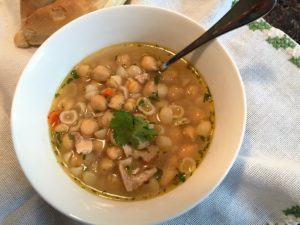 , I reduce the heat to medium low and simmered, covered, it for about 1 hour. The carcass is removed to a dish to cool.
I strained the broth and brought it back to the boil. I then added, 3-5 scallions, thinly sliced, that I had but if I didn't, I would have used 1/2 cup chopped onion. Tossed in about 1 cup of small pasta (I happened to have mini-shells) and the contents of a 1 pound 13 ounce can of chick peas. Gave it a stir. Removed any meat from the carcass bones and added it in. Tasted for salt and added to taste with some fresh ground black pepper and about 1/2 cup finely chopped fresh cilantro. Back to the boil, reduce the heat to simmer and cook until the pasta is done. That is it. Easy economical and delicious. Serves 6